This site is being revised.
Welcome to BrettSinger.com.
Upcoming comedy shows: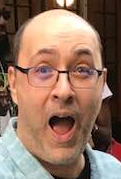 Saturday 10/12 at 5pm: Character Flawed at Dangerfield's
Wednesday 10/23 at 8pm: Prime Time Comedy presents Joe Matarese and Friends at Comic Strip Live (hosting)
Stand-up comedy clips:
Stay-at-Home Dad:
Crowd work (Cardi B vs Socialism vs Capitalism):
For information about Brett Singer, actor, please visit Backstage.com/brettsinger.
Brett Singer on Social Media:
---